The nights are getting longer, the sun is disappearing quicker,  the weather colder, and fashion better. December is the best time of year for a comfortable yet chic fashion statement. It is finally time to pull out those coats. The weather when our Instagram feeds gets better with a picture of hot coffee, a good book and a pair of fluffy gloves holding them.
With December comes the excitement of changing your wardrobe completely, replacing jackets with quilted coats, blazers with comfortable sweatshirts and sandals with a nice pair of thigh-high boots. The shelves of your favorite stores are filled with new stock waiting for you to come and grab it. The new collections and clothes are something we all get excited about each year. Life is good in December.
We have picked a few outfits for you to take inspiration from this December. You can mix and match or recreate the outfit it is totally up to you, as always we recommend adding a personal touch to everything you do so it feels like an original. The best thing about the sweater weather is that you can even make your pajamas look like a presentable outfit if you have a nice long coat to wear on top of them.
Tips and tricks on looking your best this December:
The first tip of fashion is to wear something you are comfortable in. Never ever go out looking uneasy because it shows on your face and you will feel self-conscious the entire time.
Match your accessories (for example, your bag with your scarf or your gloves with the pom-pom on your beanie).
Invest in a good coat in a neutral shade. It will look good with everything in your closet
This is the season for velvet. A slim velvet dress will cover for any party  in December
Winters mean you can wear heavy make up. Bloody dark lips and contour on point is the look to go for. And make your highlight pop like a sunray hitting the ice.
Ripped Jeans
Just because it has gotten a little cold does not mean we can not show skin. Flaunt that body with a pair of ripped jeans with colored leggings under them for a '90s inspired look. You can layer up good with a nice denim jacket.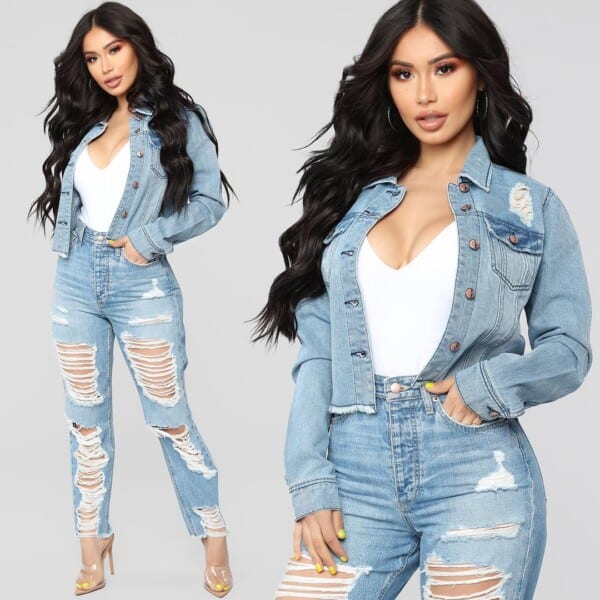 Faux Fur
Fur has the power to make a simple outfit turn into something fancy. You will go from a plain Jane to looking like Rihanna. If you are not into the animal look you can still wear a little fur on your collar or a muffler around your arms.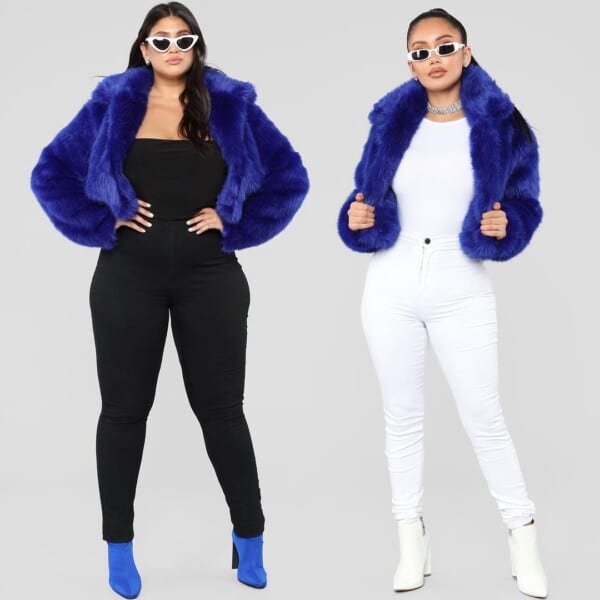 Trench Coat
If you live somewhere with a lot of rainy seasons then a trench coat is a must-have. And make sure it's stylish and elegant. A camel-colored or khaki coat goes well with almost everything in your closet and it brings elegance as well.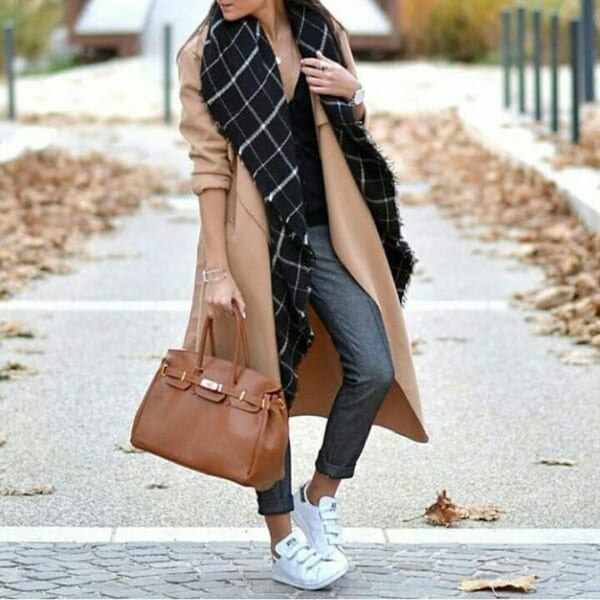 Teddy Coats
Teddy coats are huge this winter because look how cute they are!! Teddy coats can be worn over anything from your winter wardrobe. Brown and camel color are the most popular shades but you can wear any color that matches your personal style.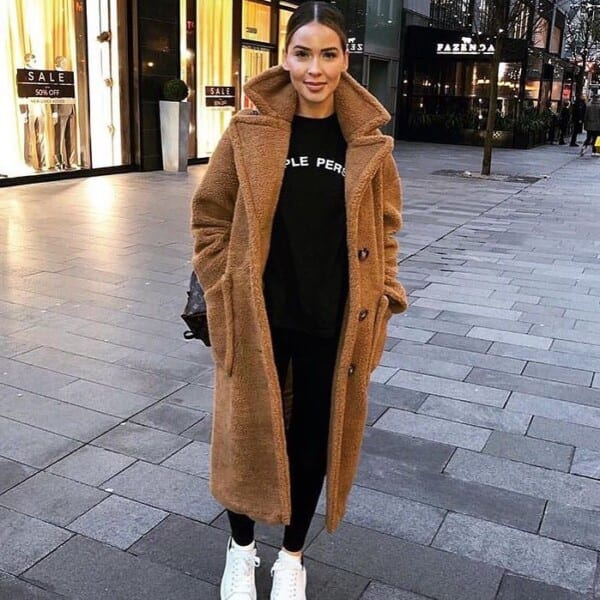 Long Dresses
It is such a relief that even though Fall is over, we do not have to pack away all of our dresses? Winter dresses look really graceful and elegant if worn right. You can add layers of contrasting cardigans or coats on top.
All White
It's the perfect weather to look like a snow angel. All white gives a touch of innocence and purity while looking really sophisticated at the same time. You can wear your white jeans with a white hoodie for casual dressing. Or with a buttoned-down shirt for meetings and formal events. Match it with a pair of heels, and you've got a look.
High Necks
Oh, nothing feels better than a high neck sweater dress. High necks look highly sophisticated if worn right. You can wear them with matching thigh-high boots and add a little bag to finish the look.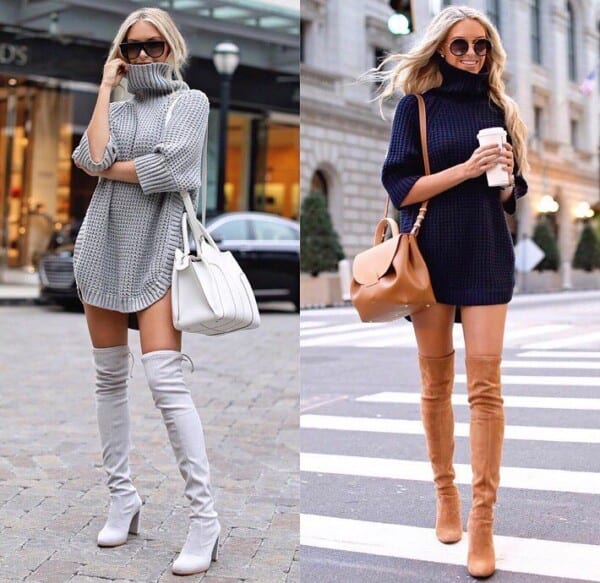 Plaid Button Up
Tying your shirt in a knot and pairing it with high waisted jeans is the look that is trending this year. You can see it on the streets, on celebrities' paparazzi shots, everywhere. A buttoned blouse can easily be tied into a knot at the bottom. You can check YouTube for different ways to style your knot and make your simple boring shirts look chic.
Sleeveless Vest 
Sleeveless vest are for days when wearing too many warm clothes will just make you stuffy and uncomfortable. You can freely walk around in sleeveless uppers. A navy blue jacket or a black one can go with a lot of your outfits. Or you can also get a sleeveless puffer jacket that goes well with jeans.
Beanies
Beanies are super cute, also extremely handy for those bad hair days when you can't even think of curling your hair. Extra points for a pom-pom on top.
Hoodies
Everyone waits all year for this season so that we can get lost in the oversized hoodies.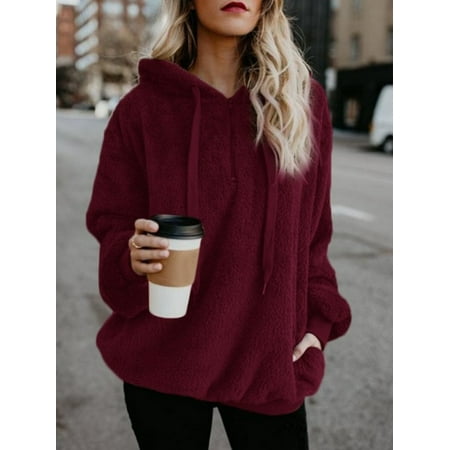 Velvet Tracksuit
The tracksuit phase has made a comeback but this time with a twist. Wear a fancy velvet tracksuit and let out your inner bougie. Add a small backpack to your outfit, preferably black, preferably leather.
Long Boots
Winter boots are our favorite thing about December. They are extremely stylish and fashionable without making much effort. All while keeping you safe from the nippy wind. Match your boots with your favorite coat or wear them over jeans and a casual sweatshirt.
Colored Sweaters
Just because everything is dark and dull does not mean your outfits have to be as well. The stores are full of fun sweaters that will add color to your lazy winter days. Stripes are especially popular with their 90s look. You can even DIY one yourself by learning how to knit from YouTube. But then again, who has the time? Just head over to Flawless Closet 
Neutral Tones
Ever since the Kardashians have taken over our Instagrams all we see is neutral shades and nude hues. A beige shirt paired with a peachy coat looks perfect with light blue mom jeans. You can wear ankle boots with it to make your look more classy.
Jumpsuits
A good warm jumpsuit works for semi-formal events where jeans would look too casual and suits make you look overdressed. A smart cardigan or a handsome jacket on top would complete your outfit.
Printed Suits
Ditch the traditional black and blue suits this year and replace them with something more Christmas like and bold. Red checkered suits are the perfect example. They do not seem over the top, nor too dull. Wear a plain black or white or any nude-colored shirt underneath. Remember, do not wear a patterned blouse under your suit because it will clash with your coat and pants.
Bold Colors
Vibrant colored sweaters that are also baggy are what we are living for this winter. They lift up your mood immediately and kill the winter blues. Flashy colors like fuschia match really well with denim blue. Add a pair of uggs or leather boots at the bottom and go enjoy December.
Velvet Dress
Velvet screams 'sophistication'. A nice velvet dress will cover you for any fancy winter event. Dark green, blue, black, white, maroon and rose gold are the colors that look the sexiest. Stay clear of flashy or light colors.